FC-BLZD-I1LRE3W-dyD-B Fire emergency signs lamps / dyD-B explosion-proof lights
Product Detail
Product Tags
Model Implication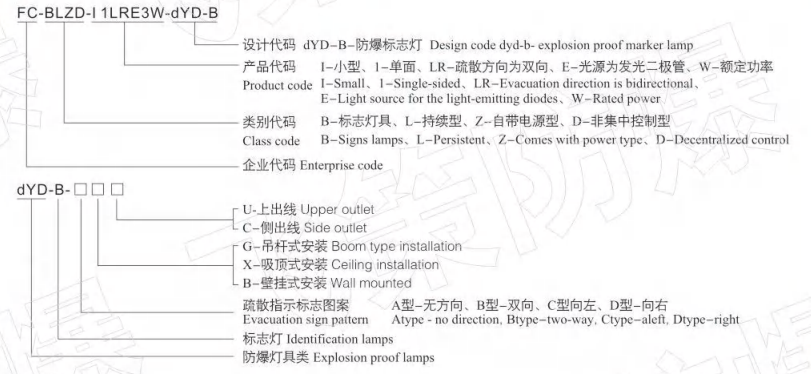 Features
1. Aluminum alloy die-casting shell, the surface of high-pressure electrostatic spray.
2. Configuration of long life high brightness LED light source, low power consumption, high brightness, effectively meet the energy saving, environmental protection requirements
3. Built-in maintenance-free Ni-MH battery pack, the normal work of automatic charging, power failure can be emergency power supply 90 minutes.
4. With the special design of the intrinsically safe circuit, overcharge protection, short circuit protection, over discharge protection and other protection function, effectively ensure the use of performance.
5. Has the function of monthly check, automatic discharge once a month, the emergency state to maintain 120s, automatic restoration of the main power state.
6. With annual inspection function, every one year automatically transferred from the main electric state to the state of emergency work and continuous discharge, and then restore the state of the main power, automatic restoration of the main state.
7. High protection of the structure of the design, the configuration of anti aging silicone rubber sealing gasket, to achieve good protection performance.
8. Light form, namely normal lighting and emergency lighting are displayed in the normal power supply, automatic switching to a state of emergency, emergency battery discharge, emergency time not less than 90 minutes.
9. Display panel evacuation signs have a variety of patterns to choose from, can also be customized according to user requirements.
10. All exposed fasteners are made of stainless steel.
11. Steel or cable wiring can be.
Main Technical Parameters

Order Note
Accord with the model implication's rules to select regularly, and Ex-mark should be added behind model implication. The template is as following: code for product model implication+Ex-mark.For example, For example, the need for explosion-proof lights, the number of 20, the product model is: dyD-B+ Ex e ib q IIC T6 Gb +20。
---
---
Write your message here and send it to us
Related products
Model Implication Features 1. Explosion-proof type "Explosion-proof safety of the sand-filled complex" or "dust explosion-proof", in the corresponding level of explosion- proof gas and dust environment exist at the same time. 2. Aluminum die-casting shell, the surface electrostatic spray, beautiful appearance. 3. Using high-brightness LED light board, with low power consumption, long life, maintenance-free advantages. 4. Built-in maintenance-free Ni-MH battery pack, the n...