dYD series Explosion-proof(LED) fluorescent lamp
Product Detail
Product Tags
Model Implication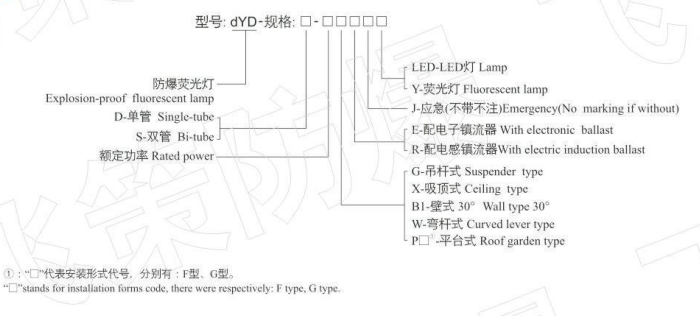 Features
1. The enclosure is moulded by the high strength aluminum alloy for one time. Its exterior has sprayed with plastic by high pressure static after shot blasting at high speed. There are some advantages in the enclosure: tight structure, high density materials, great strength, fine explosion- proof functions. It has strong adhesion of plastic powder and great anticorrosive performance. The exterior is clean and beautiful.
2. It has patent structure and can replace the tubes quickly.When the tubes are replaced, it should accord with the demands to assemble to a adjustable type and can put down one end of lamp.
3 . We can conform the customers' requirements to add an emergency device. If the power is out off,it will be turned to emergency lighting automatically.
4 . Wiring with steel tube or cable.
Main Technical Parameters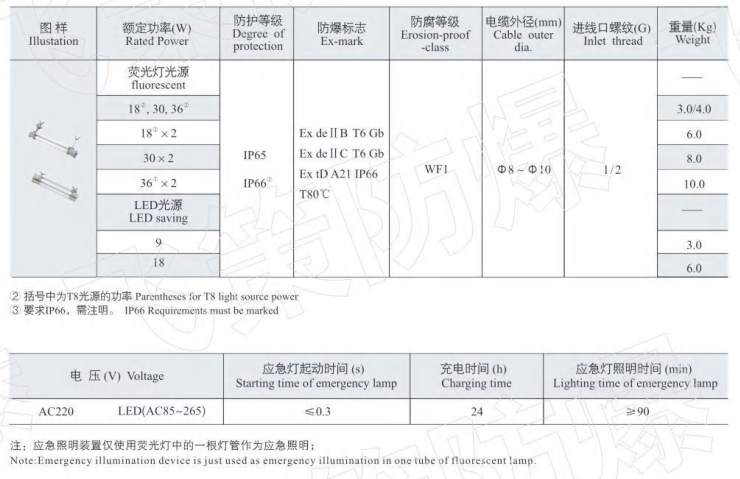 Order Note
1. In accordance with the specifications of the meaning of the rules and regulations to choose one by one, and in the model specifi- cations after the increase of explosion-proof mark. Concrete expression is: "product model – specification code + explosion-proof mark + order quantity". For example, the need to dust explosion-proof fluorescent tube 36W × 2 double-pole installation, the order number of 20 sets, the product model specifications: "Model: dYD- Specifications: S-36 × 2GY; Ex tD A21 IP66 T80 ° C ";
2. Emergency illumination device is just used as emergency illumination in one tube of fluorescent lamp.
3. Refer to pages P431~P440 for the selected mounting styles and accessories.
4. If there are some special requirements, it should be pointed as ordering.
---
---
Write your message here and send it to us