BPG series Explosion-proof distribution board
Product Detail
Product Tags
Model Implication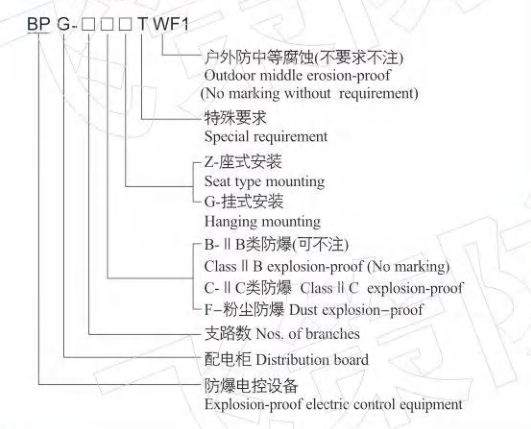 Features
1. Shell is made of high qualified steel plate or stainless steel plate welding forming, it is built-in many kinds of explosion-proof apparatus or their combination; eg : explosion-proof power (illumination) distribution box, explosion-proof electromagnetic starter, explosion-proof power maintaining box, explosion- proof power maintaining socket box, etc;
2. The operating ways can be on panel direct or inside operation according to the detail request;
3. Can realize monitoring and measurement for the various parameters in circuit , pressure and temperature can be realized by building in various explosion-proof meters or secondary meters;
4. It can satisfy explosion-proof distribution set (electromagnetic starter) with heavy current;
5. Two or multi-circuits entry can be converted, by hand or automatically;
6. According to the electric scheme and main technical parameters offered by user, select explosion-proof electrical equipments and, decide the outline dimensions of distribution board, to satisfy user's locale requirement.
Main Technical Parameters
Order Note
1. Please supply the electrical diagram;
2. Select the corresponding explosion-proof electrical equipments according to user's requirements;
3. Generally the distribution board is seat type installed. please indicate if there is special requirements.
---
---
Write your message here and send it to us